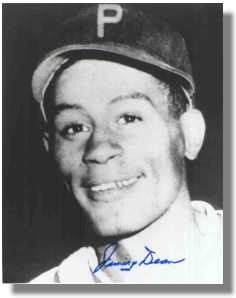 Born on February 25, 1925 in Ambler, Pennsylvania; Jimmy Dean began pitching in the Negro Leagues about the time the racial barriers that kept African Americans out of Major League baseball came down.

After coming out of the military in 1946, Dean played first with the Philadelphia Stars (1946).

The next year he was with the New York Cubans and then the New York Black Yankees, before returning to the Stars in 1948 (1948 – 1950).

A power, strikeout pitcher with a sinker and curveball; he pitched against Willie Mays, Roy Campanella, Larry Doby, and other Negro Leaguers that went on to play in the Major Leagues.

But Dean did not get stuck in the minor leagues or make a brief appearance in the big leagues in the 1950's as some Negro League players of his time.

He left baseball after 1950, obtained a college degree in chemistry, and worked for Merck Pharmaceutical for 33 years.